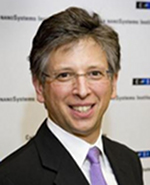 Paul Weiss
UC Presidential Chair Distinguished Professor of Chemistry & Biochemistry; Distinguished Professor of Materials Science & Engineering
UCLA
https://nano.ucla.edu/
Paul S. Weiss is a nanoscientist and holds a UC Presidential Chair and is a distinguished professor of chemistry, bioengineering, and materials science at UCLA. He studies the ultimate limits of miniaturization, developing new tools and methods for atomic-resolution and spectroscopic imaging and chemical patterning. He applies these advances in other areas including neuroscience, microbiome studies, quantum information, and high-throughput cellular therapies. He has won awards in science, engineering, teaching, publishing, and communications. He is a fellow of the American Academy of Arts & Sciences, AAAS, ACS, AIMBE, APS, AVS, Canadian Academy of Engineering, Chemical Research Society of India, and MRS. He is the founding and current editor-in-chief of ACS Nano.
Sessions
Exploring and Controlling the Nanoscale World

Recent advances have opened up the nanoscale world for exploration. New tools have enabled us to probe the ultimate limits of miniaturization, the smallest switches and motors in the world, as well as chemistry, physics, biology, and engineering at the atomic scale.